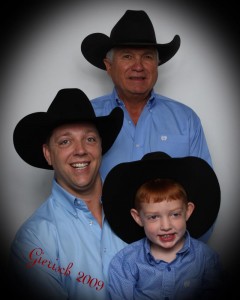 Bill started riding at the age of 13 with Smokey Davis as his mentor. Smokey is a horse trainer with three generations of ranchers in his blood. He has also been elected to the Cowboy Hall of Fame. He is well known in Texas as a man with great horsemanship.
Bill worked on a ranch for 5 years as a ranch hand, helping Smokey break and train horses. Bill trained horses for 2 years in college on his own and also began "clowning" on the Rodeo circuit.
Over the past 57 years, Bill has worked with thousands of horses. He currently owns 30+ (depending on the week!)
Bill's son Shane rodeo'd his entire high school career and pro rodeo'd riding and roping. Shane lives at the ranch with his father Bill and helps prospect potential new roping horses and train new students. His son Kade, 10, participates in group lessons and always lends a helping hand to new riders.
After honing his own horsemanship skills, those of his son and now his grandson, Bill has found a passion in sharing his knowledge with others. He stresses horsemanship/safety over everything else and sees each situation as an opportunity to gain new knowledge and understanding of horses. In turn he shares horsemanship as the foundation for learning.
Call us today at 281-342-6200!