Ride the Wind offers Western riding lessons for all ages in a fun and safe environment. It doesn't matter if you are six or sixty; we can assist you in fulfilling your dream of riding like the wind. Lessons are highly individualized and designed to instill the confidence and skills you need to be safe and secure in the saddle. We stress horsemanship not fear.
Types of Lessons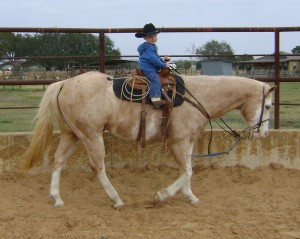 Beginner Lessons:
Group lessons Saturdays at 3:00 pm **Please call to reserve your spot
Available – Individual lessons by appointment
Ages 3 – 60
Beginner Lesson Details:
The first lessons are one hour long. We start the lesson by teaching safety around horses, handling the horses, saddling, and then riding all in the first lesson. Riders next go to our small covered arena (70w x 200L) where they are taught how to turn the horses, stop the horse, balance, light hands on the reins, and also how to think like a horse! Riders that feel comfortable are able to walk the barrel pattern and eventually trot it. After an average of 5 beginner lessons, students are able to learn how to lope/canter safely in the covered round pen (50ft D). Everyone learns at a different pace and we adapt our lessons to this. Lesson horses are available for all levels of riders. You can also bring your own horse.
***Helmets are not provided.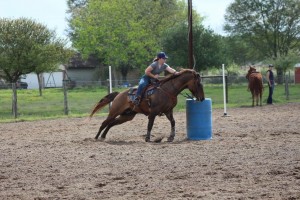 Intermediate Lessons:
Saturday  at 1:30 pm  — Call / discuss for appropriate placement & fulfilling your needs
Call to reserve your spot after being confirmed into the intermediate skills group
Intermediate Lesson Details: Fast-paced group activities and learning.  More trotting with a focus on sitting in the saddle properly. Students learn how to guide the horse by reining them properly. A genuine emphasis on horsemanship which teaches the reasons for growing horse riding skills is an important foundation for enjoying horses and in turn life. Confidence grows with each intermediate lesson.
Also available – Individual intermediate lessons by appointment
All Ages
Advanced Lessons:
Saturday by Invitation at 8:30 am
Also available – Individual advanced lessons by appointment
All ages
Advanced Lesson Details
Advanced lessons begin with a "Western Warm-Up" where everyone walks, trots, and then lopes their horses in a big circle at the end of the large arena (165w x 350L). If a rider needs additional warm-up for their horse, they are able to utilize the covered round pen prior to our Western Warm-Up. Next, we learn a "skill of the week" such as sliding stops, fence turns, balance in the saddle, and much more. We then put out a barrel racing, pole bending, and straights pattern and divide into three groups. This facilitates the learning of handling your horse in turns, adjusting speeds, balance during quick movements, and general horsemanship. We follow the 3-3-1 rule, walking and trotting our horses 3 times each and then 1 lope. We then finish with a walk so our horses are not exciteable. We end lessons with a fun game like "trot tag", "follow the leader", or relay races/obstacle courses.
If you are unsure about placement in the correct experience category or the fit to your needs, Call Bill Gierisch at 281 342-6200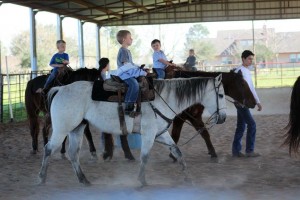 Price per lesson (cash or check)
Updated 2022:
Effective for new students
$50 for youth
$60 for adults
$100 for children with parents assistance / advising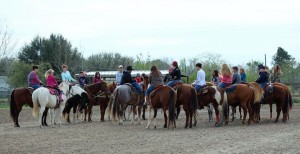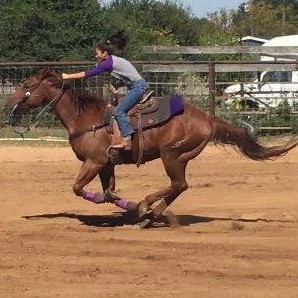 Weather
We ride rain or shine but lessons are subject to cancellation in extreme weather. If it is raining, we will utilize the covered arena and parents have a dry place to watch.
Payment: Cash or Check
Before riding, you will need to complete a Release of Liability form.